Fire Damage Prevention Tips on Your Stove & Microwave
Fire is common households, but that doesn't mean it can't be dangerous.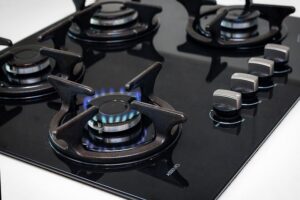 Fire is detrimental not only to you but to your property as well. This is why you should always have contact with home restoration experts to get home restoration after fire damage.
That said, prevention is always better than cure. So let's talk about the area that is most susceptible to a fire in your home. The kitchen contains appliances and equipment that could potentially lead to a fire. This includes the stove and the microwave primarily. You can mitigate the chances of a fire and its repercussions with fire damage prevention tips.
Safety Tips for the Kitchen
First of all, you should follow the mentioned safety tips so that you're equipped to contain the fire and smoke damage in your kitchen.
Make sure you have a fire extinguisher in your kitchen so that you can contain the damage within the kitchen in the event of a fire. This would prevent the damage from spreading to other parts of the house.
Install a smoke detector in your house. Often, fire damage becomes extensive because we don't realize that there is a fire in the house. A smoke detector will help you act fast before significant damage has been done. This way, you can immediately call for disaster restoration.
Fire Damage Prevention Tips for Stove and Microwave
The stove is one part of the kitchen that will inevitably be used for cooking, etc. But it can also prove to be a major hazard if it is not tended to properly. Most fires in homes start in the kitchen, and that too, because of the stove. Similarly, just like any other electrical appliance, the microwave can also start a fire if handled without care. However, you can use these fire damage prevention tips on your stove and microwave to mitigate this possibility.
Don't Leave a Heat or Fire Source Unattended
Often, we leave the stove on to quickly answer a phone call or the door. We don't think of the damage that may occur within this time. If the heat or fire source does start a fire in your absence, you won't be able to immediately contain the damage. Too much oil in a pan, a cloth or flammable substance nearby, or even wind can cause a fire, which will then wreak havoc. Therefore, it's a smart idea to turn off the stove or microwave whenever you step out of the kitchen.
Don't Keep Flammable Objects Near the Stove
Many people store their cleaning solutions in the kitchen to quickly wipe the cabinet or stove. However, this poses a risk of fire that you should avoid at all costs. A lot of cleaning solutions and cloths are flammable, i.e., will quickly catch fire. Make sure that fabrics like kitchen towels are not hanging over the stove and that cleaning solutions are kept at a safe distance from the stove or any other heat source.
Don't Wear Long Sleeves While Cooking
One safety tip while cooking is that you shouldn't wear long sleeves that hover over the stove. This can prove dangerous for you and your property both. Any clothing material can catch fire, and this can cause serious burns. Always make sure you have your sleeves rolled up when you are cooking or even heating up something on the stove.
Check Your Microwave for Broken Wiring
Broke wiring can easily lead to a fire. However, this often goes ignored. This is why whenever you're using an electrical appliance like a microwave, check the wiring and get it repaired before you continue using it. This could save you from fire damage.
Don't Put Aluminum Foil in the Microwave
Never assume that an electrical appliance cannot pose a risk of fire. In fact, microwaves heat up items in it very quickly, so you should be very careful about what you put in there. The first thing to remember is: do not place any food in wrapped aluminum foil in the microwave. The electric fields in the microwave lead to a flow of electricity through metals. Thin metals like aluminum foil can find these electric currents overwhelming and may catch fire.
Only Use Microwave Safe Utensils
No matter how many microwaves you have had in the past, always read your current appliance's user manual. This way, you will know which items or materials are safe for use. Most people ignore the detriment of placing any material in the microwave but bear in mind that it can lead to a fire. This is why it is imperative that you only use microwave-safe utensils to heat up food in the microwave.
911 Restoration of Chico
Every homeowner should use these fire damage prevention tips to avoid damage to themselves and their property. However, at times, fire is unavoidable. If you do encounter a fire, do not hesitate and immediately call 911 Restoration of Chico.
Fire damage can be extensive, and it's always better to have experts handle it. Moreover, fire damage often leads to water damage, which can then cause mold growth in homes. Combined, this can be highly destructive for your property. Therefore, seek timely help and revive your home to its original condition!