Importance of Covid-19 Awareness
The coronavirus pandemic is a source of major concern in Chico. This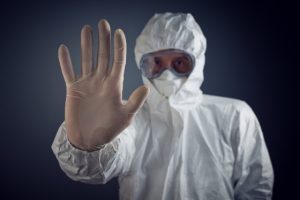 virus spreads quickly and can cause serious illness. In order to slow down the pandemic, it's important that we all do our part on a personal level. You can focus on keeping your property sanitized and disinfected by following tips from the CDC and the EPA.
It's important that you take steps to limit transmission of the coronavirus as much as possible. Washing your hands correctly is an easy way to accomplish this. According to the CDC, you should wash your hands with soap and water for 20 seconds:
Anytime you are in contact with an ill person

Right away after you take off gloves if you were cleaning

If you cough, sneeze, or blow your nose

Before you cook food or eat

If you are in contact with animals

Following a trip to the bathroom 
You may also use an alcohol-based sanitizer in some circumstances to disinfect your hands. However, you should only use a sanitizer if your hands are not visibly dirty. Additionally, you should make sure the sanitizer has at least 60% alcohol in it to be effective.
You can also focus on keeping your property clean as you deal with this virus. Make sure that you clean areas exposed to the virus with soap and water before you disinfect them. You can use a disinfectant recommended by the EPA. Ensure you follow all instructions on the disinfectant for best results.
911 Restoration of Chico can also offer you professional help with sanitization services. You can contact us to review disinfection solutions in Chico. Our crews are trained to use the most up-to-date guidelines from the CDC and EPA. We can clean and sanitize your commercial or residential property, so contact us right now.