Sanitization Services in Chico
The coronavirus is a major concern for property owners in Chico. The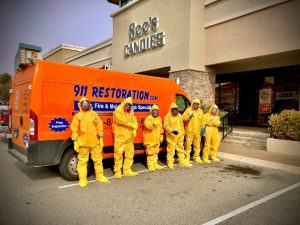 virus can survive on surfaces if they are not properly disinfected and sanitized. You can take proactive steps to get back your peace of mind during this time by contacting 911 Restoration of Chico for help. Our sanitization specialists can reach your property quickly to offer you a Fresh Start.
The coronavirus spreads quickly from one individual to the next. It can even be spread by individuals who do not appear symptomatic, which is a major concern during this pandemic. Maintaining good hygiene and focusing on social isolation can slow the spread of the disease. Keeping your home or business sanitized with the help of the professionals may also be a good idea as we handle the coronavirus in Chico.
Call 911 water restoration at (530) 214-5391 and please allow us to offer you a free visual inspection.
911 restoration inc offers specialists sanitization services. We can meet with you to discuss disinfection solutions for your office or retail space. If you closed your business temporarily, or if you have remained open as a necessary service, we're ready to provide the help you need. Contact us right now so we can take care of office deep cleaning and sanitization for you.
Get Professional Disinfection Solutions in Chico
Here at 911 Restoration of Chico, we know everyone has a part to play in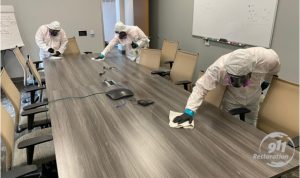 reducing the severity of the coronavirus pandemic. You can do your part by focusing on self-isolation and maintaining social distancing while in public. You can also focus on ensuring your property is cleaned and sanitized to kill the virus on surfaces.
Call us at (530) 214-5391 and learn how we can help.
Our sanitization specialists focus on doing their part by keeping your property clean and disinfected. We use the most up-to-date recommendations handed down by the CDC and the EPA. We are ready to:
Reach your property in under an hour

Work with you to come up with disinfection solutions

Set up a schedule for sanitization services
You may want a one-time sanitization service if your business shut down to limit the spread of the coronavirus. You could also be interested in recurring sanitization and cleaning services chico ca, to help your customers and employees maintain their peace of mind. We're here to provide you with the services that you need during this challenging time. 
You can reach out to us around the clock to get the help that you need. We're ready to begin cleaning and sanitizing your property in Chico right now. Call us at (530) 214-5391 and learn how we can help.