Disaster Restoration
Property disasters are not only unexpected, but they can literally occur at
any time. You may wake up to your entire downstairs flooded by a broken pipe or come home from a weekend trip to discover a sewage backup. However, the challenges presented by a disaster do not have to disrupt your life. Call 911 restoration owner and allow our technicians to take over the situation. Our office is open 24/7/365, so you can reach out to us at the moment you need emergency restoration services. We will provide you with comprehensive disaster restoration that is sure to get your property looking better than new.
Whether you're dealing with fire, flooding, sewage, or earthquake damage, we are confident that our repair techs can restore your property entirely.
As a locally owned and operated restoration company, our technicians fluently understand how the regional weather patterns impact homes and businesses in Chico, Red Bluff, Corning, and the surrounding areas.
If you need immediate sewage and water damage restoration, we will respond within 45 minutes of receiving your call. Our technicians will minimize the damage by administering same-day flood cleanup and drying services.
For non-urgent matters, you can still expect us to respond quickly. We realize that the state of the property will become worse the longer issues involving fire, mold, and rubble go unmitigated.
911 Restoration of Chico employs the highest qualified technicians in the industry. We work with IICRC certified professionals that are backed by the Institute of Inspection, Cleaning, and Restoration.
Not only do we have a trained and experienced staff, but our entire restoration company is licensed, bonded, and insured. You can trust that we will protect you in full under even the most severe circumstances.
Call 911 Restoration of Chico when you need help after a disaster has affected your residential or commercial property. Regardless of the situation, we will show you that a Fresh Start is possible!
Call us at (530) 214-5391 and please allow us to offer you a free visual inspection.
Disaster Restoration for Everything From Wildfires to Hail Storms
Although natural disasters aren't exceedingly common in Chico, the region does experience thunderstorms, flash flooding, hail, and wildfires. Over the last few years, this extreme weather has been more frequent, making preparedness crucial.
Chico has sweltering, dry summers and cool, wet winters. Although these weather patterns are generally consistent, there are still unpredictable circumstances that sometimes arise.
Thunderstorms in late-fall and spring can bring torrential rain that leads to floods, ceiling water damage, and sewage backups. Although rare, these powerful storm systems can generate tornadoes and hailstorms that can create extensive structural damage to homes and businesses in its path.
Fall is traditionally fire season in California, as the Santa Ana winds blow over the hillsides, forests, and brushlands that have dried out due to the summer heat. Extreme winds make the foliage exceptionally flammable, while gusts carry burning embers throughout the landscape.
Our technicians understand that disasters determined by climate can pose significant risks to homes and businesses in Chico, Red Bluff, Corning, and the surrounding areas. You can feel confident in our ability to administer comprehensive disaster restoration for any situation.
We are ready to conduct emergency restoration services after your property is impacted by the elements, whether it be wind, water, or fire. So, call us at (530) 214-5391 and learn how we can help.
Full-Service Emergency Restoration After a Disaster
Dealing with a property disaster doesn't have to be overwhelming. All you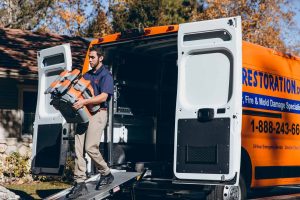 need is a trustworthy disaster restoration company by your side to show you that everything is going to be ok.
911 Restoration of Chico is the company you can depend on to respond the moment you need help. Our technicians are standing by around-the-clock to jump into action with emergency restoration services.
No matter the cause, we realize that there is no time to waste when faced with disaster damage. Not only is timeliness vital to the repair work, but it is key to keeping your emotional well being intact.
We never want you to feel alone in this situation, which is why our office is open 24/7/365 to take your calls and answer any questions. 911 Restoration of Chico puts customer service above all else.
If you need assistance in understanding your insurance policy, our professionals will provide you with free insurance consultation. 911 Restoration accepts all types of insurance because we want to keep your out-of-pocket expenses low.
Our onsite technicians will help you take inventory of the damage to your property and belongings so you can submit a detailed list of your losses along with your insurance claim.
You can count on our staff members to directly bill your insurance provider and file your claim. Hence, you never have to worry about the financial logistics of the disaster restoration work. Our team wants to make this process as easy on you as possible.
Call 911 water restoration at (530) 214-5391 and learn how we can help. You can expect to receive help from a team that cares and understands what you need to get through any disaster!