Water Damage in Chico, CA
Whether you own a home or business, the odds are that you may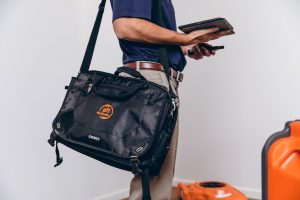 encounter water damage on your property at one time or another. Even though Chico receives minimal precipitation, there are various ways moisture can make its way inside to cause leaks and flooding. 911 Restoration of Chico is locally owned and operated, so we understand how the regional weather patterns impact properties in the area. Our technicians will respond quickly to all water emergencies, guaranteeing to arrive within 45 minutes of receiving your call. Our office is open 24/7/365, so you can call us the moment a disaster occurs.
As soon as our technicians arrive on the scene, we will start the water damage restoration by giving the property owner a free inspection and estimate. We will make sure you are comfortable with all the water removal procedures before starting any repair services.
You can feel confident knowing that 911 Restoration of Chico hires IICRC certified technicians that we recognize for having reached the highest standards in the industry.
Not only do we employ experienced, trained professionals, but our entire water damage company is licensed, bonded, and insured for your protection. You can feel safe knowing that we've got your back under even the direst of circumstances.
When you experience a pipe burst or property damage in your home or business, you can stay calm, because 911 Restoration of Chico is always ready to conduct same-day emergency service restoration. So, give us a call today!
Combating the Consequences of a Pipe Burst
Cold weather causes most broken pipes. However, the mild California temperatures make it more likely that a pipe burst in Chico would occur due to an earthquake or a worn-out plumbing system.
Despite the cause of the pipe burst, it is crucial to understand the risks involved in these water damage situations. You may find yourself dealing with contamination, structure instability, and mold growth.
Once a pipe breaks, water can fill your property within a matter of hours, creating extensive flood damage. Our technicians realize the urgency of these situations and guarantee to respond immediately upon receiving your call.
We will administer thorough water removal, drying, and dehumidifying procedures. The drier our technicians make your property, the better the chances are of preventing a mold infestation.
Mold can grow even during the cold, wet winter months, as long as the indoor conditions are warm and damp. Under the right conditions, mold can begin to spread throughout the walls and ceiling in as short as 24 hours.
You can trust our repair techs to address your flood damage or mold problem as quickly as you discover it. We will get in there and do the work needed to get your property looking better than new.
So, call 911 Restoration the moment you discover a pipe burst, mold, or flood damage in Chico. Our technicians will put you at ease with our top-notch water damage restoration.
Affordable, High-Quality Water Damage Restoration
When dealing with leaks, flood damage, or any other water disaster, it is vital to your recovery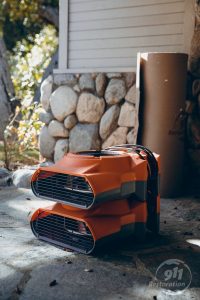 to have a dependable restoration by your side. When you call 911 Restoration of Chico, you can expect our technicians to respond with emergency flood cleanup services, day or night.
While our focus is to make sure you receive inexpensive, quality water removal and drying services, keeping your wellbeing intact is our top priority.
Our staff feels that customer service is essential to water damage restoration. We will assist you with every aspect of your situation, from facilitating the home flooding repairs to providing free insurance consultations.
If you need help figuring out your insurance plan, we will go over everything with you until you understand your policy and coverage fluently. 911 Restoration accepts all types of insurance and understands how the filing process works.
By providing your insurance company with as much detailed information as possible regarding the water damage, you will receive the most financial aid from your provider.
Our technicians will help you receive this coverage by taking inventory of your losses, directly billing your insurance provider, and submitting your claim for you. Anything you need, you can count on us to do.
So, call the team that cares and understands what you need from a water restoration company. Let 911 Restoration of Chico show you what a Fresh Start looks like today!
Servicing the cities of Anderson, Bella Vista, Cottonwood, Douglas City, French Gulch, Igo, Millville, Mineral, Oak Run, Palo Cedro, Paynes Creek, Platina, Redding, Shingletown, West Tehama County, Whitmore, and the surrounding areas.