Mold Removal
Whether you own a home or business, 911 restoration owner wants
your property to be safe, comfortable, and durable for you and everyone in your life to enjoy. If mold is lurking behind the scenes, it can have a considerable impact on the structural integrity of your property. Our technicians want to prevent mold problems from impacting your life, which is why we offer affordable, high-quality mold removal services in Chico. Whether you live in Chico, Red Bluff, Corning, or the surrounding cities, you can depend on our mold experts to respond quickly. Once onsite, we will immediately get to work containing the situation, which starts with giving the property owner a free visual inspection.
911 Restoration of Chico works with highly trained technicians are experienced in conducting residential and commercial mold remediation. Over the years, we have come to understand the intricacies of how mold spreads throughout homes and businesses.
Moisture and temperature play vital roles in mold development. Even though Chico typically experiences dry summers and cold winters, there are still unexpected ways that the climate can lead to mold problems.
As a locally owned and operated mold removal company, our technicians know how the regional weather patterns contribute to indoor mold growth. This local knowledge helps us to execute a mold cleanup strategy specifically designed for your situation.
More often than not, water damage leads to mold. Stagnant flood damage, broken pipes, and ceiling leaks are all issues that can quickly spark an infestation.
Unlike other mold mitigation companies, 911 Restoration of Chico specializes in water damage restoration. Providing expert water remediation is essential to the mold cleaning service since both issues feed into each other.
Along with chico ca water restrictions, you can expect us to focus on structural drying and dehumidifying procedures. The drier we get your property, the better the chances are of preventing future mold infestations.
911 Restoration of Chico provides full-service mold restoration that deals with every aspect of the situation. We care and understand what you need to recover from even the most severe mold intrusions. So, give us a call today! we provide mold remediation specialists in Chico.
Understanding Why Mold Poses a Threat to a Healthy Home or Business
Although different types of mold typically grow indoors, most of them look relatively similar. Even the infamous black mold can visually present as common house mold to the untrained eye.
It is important to know what you are dealing with to keep you and your family protected against the potential health risks caused by mold spore exposure. Aspergillus, Cladosporium, and Stachybotrys are the strains of mold our technicians frequently come across when conducting mold removal services.
Aspergillus and Cladosporium are nontoxic, but can still trigger allergies that include itchy eyes, skin rashes, and sore throats. Stachybotrys is also known as black mold and is the most aggressive indoor mold. Inhaling these spores can cause serious respiratory issues and lung infections.
If you have a preexisting mold sensitivity, you may be more susceptible to feeling the effects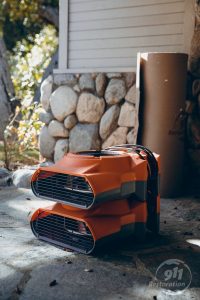 of mold spores. However, even healthy individuals are at risk of experiencing symptoms with regular exposure.
Regardless of the mold species on your property, we will give you peace of mind knowing that our technicians will eradicate every trace of an infestation. Not only will we administer thorough mold remediation, but our experts will implement preventative measures to stop any future growth.
Your wellbeing is of the utmost importance to our entire staff. We will work meticulously to kill airborne mold and decontaminate your property entirely. Through our comprehensive mold remediation techniques, we guarantee your property will pass our mold clearance test.
So, whether you need black mold removal or smell mildew in your bathroom, call 911 Restoration of Chico for a free mold inspection. We will get to the source of hazardous mold in your house or business today.
Professional Mold Inspection and Detection Services
Detecting mold on your property can be fairly straightforward at times. However, mold tends to grow in hidden parts of the home or business that can go mostly unnoticed.
Due to the elusive nature of mold growth, it may be necessary to receive a free mold inspection from our experts. Since 911 Restoration of Chico offers free mold inspections, you can reach out for a consultation without taking a financial risk.
Our technicians will first check areas of the property that are most prone to water damage since moisture problems are the most significant contributor to mold infestations.
A musty-smelling attic, bathroom, or crawlspace may indicate the presence of mold and mildew. It is also crucial to check underneath carpets, behind drywall, and in-between bathroom tiles.
However, just because you can see or smell mold, doesn't mean it is not there. If you have recently experienced flooding in chico or a water leak, there may be mold in walls and ceilings.
You can trust that we prepare our mold experts to handle situations that require more aggressive inspections. We will use infrared leak detection technology to find all hidden traces of moisture pooling deep within your property's structure.
We are confident that our mold specialists will locate and eliminate mold from even the most hard-to-reach areas. So, call 911restoration when you need professional mold remediation. We will provide local and inexpensive mold removal services in Northwest Arkansas, that are sure to give you the Fresh Start you deserve!