Water Damage in Red Bluff
There are many opportunities for water to invade your property. Even though Red Bluff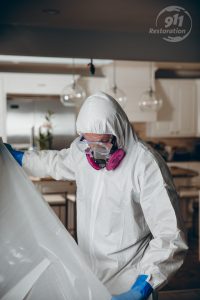 has dry summers, the winter can produce significant rainfall. Between seasonal precipitation and property wear and tear, there may come a time when you require professional water damage restoration. When this moment arrives, 911 Restoration of Chico will respond within 45 minutes of receiving your call. Our office is open 24/7/365, allowing you to call us day or night. Once our technicians arrive, they will start the water restoration process by providing the property owner with a free inspection and estimate.
If you are experiencing a water emergency, such as a pipe burst, ceiling leak, or flood damage, our technicians will immediately begin water removal and drying services. We also specialize in mold removal, which you commonly need in situations involving water damage.
We will conduct same-day services to minimize the damage and stop any permanent issues from forming. You can trust that our IICRC certified technicians can handle any situation thrown at us.
As a locally owned and operated restoration company, our technicians expertly understand how the regional weather patterns impact homes and businesses in Red Bluff.
Rain or shine, you can count on our repair techs to help you recover from even the most extreme water damage scenarios. So, call 911 Restoration of Chico when you need water damage restoration in Red Bluff.
Stay Proactive to Prevent Winter Roof Leaks
Wintertime is the wettest season in Red Bluff. In colder cities, ice dams cause roof leaks during the winter. However, in warmer climates, the problem is typically tied to another culprit-attic condensation.
When warm air cools inside the attic, the moisture coalesces into water droplets that will cover the wooden surfaces inside the enclosed space. Eventually, the condensation will build-up to the point of creating a visible leak.
Once a ceiling leak has formed, you may face wood rot and mold. To stay ahead of these subsequent issues, it is essential to receive professional water damage restoration.
We specialize in both water damage restoration and mold removal in Red Bluff, so you can trust us to address every aspect of the roof leak. Our technicians will get into the attic to determine the source of the leak and find any mold that may have started growing.
Our repair techs will conduct water removal, drying, and dehumidifying services, which are crucial to dealing with condensation. It is necessary to get the area free of any lingering moisture to prevent mold growth.
If we do find an infestation during our inspection, our technicians will administer thorough mold removal services. We guarantee your property will pass our mold clearance test once we are through.
So, call 911 Restoration of Chico when you notice signs of a roof or ceiling leak. We will give you peace of mind as soon as we arrive with our top-of-line water damage repairs.
A Water Damage Company That Will Tend to Your Every Need
911 Restoration of Chico understands that water damage restoration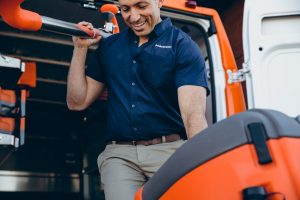 requires more than just water removal and drying services. Customer service is essential to the recovery process, and we aim to deliver.
Our priority is always keeping you feeling safe and secure throughout the repair work. We know that your home and business is on the line, and our technicians will work diligently to get your property up and running.
We approach every job with professionalism and will treat your property with the respect it deserves. Our staff members will assist you with every aspect of the water restoration, including insurance procedures.
911 Restoration offers free insurance consultations to ensure you fully understand your policy and coverage. Our onsite technicians will help you take inventory of your losses and file your claim for you. We will also directly bill your insurance provider.
We are a full-service restoration company that will guide you through everything, whether you need leak repairs, mold removal, or insurance assistance. So, call 911 Restoration of Chico to receive help from a team that cares and understands what you need.
Servicing the cities of Anderson, Bella Vista, Cottonwood, Douglas City, French Gulch, Igo, Millville, Mineral, Oak Run, Palo Cedro, Paynes Creek, Platina, Redding, Shingletown, West Tehama County, Whitmore, and the surrounding areas.