Dealing with Fire & Smoke in Chico's Infamous Droughts
Droughts can easily lead to wildfire, which then causes fire and smoke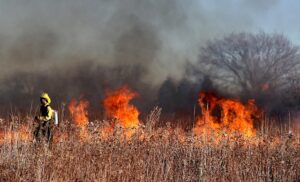 damage. Chico, California, is prone to droughts, due to which its residents need to be more careful about the repercussions. If you look at the research, you will find that about 73% of the state is affected, i.e. prone to droughts. These droughts are more severe and sudden in some parts like Chico.
The detriments of drought include fires, which will then result in fire and smoke damage. Now, it is easy to understand how droughts lead to fire. Dry weather, along with rising temperatures, creates the perfect conditions for fire. The dried vegetation is more flammable, making Chico more susceptible to fire. Moreover, the wind carries fire to far-off places. All this can lead to large-scale fires, which are more dangerous to handle.
Fire and Smoke Damage
Residents of Chico need to contain damage or else there would be dire consequences. In fact, experts declare fire damage as the most devastating type of damage. This is because fires pose a risk to both lives and property.  To add to that, fire damage entails smoke damage, and smoke can be very hard to remove from homes.
Fire Damage
Fire damage refers to the damage suffered by property due to burning or flames that may be carried by winds after a drought. Fires will burn not only vegetation but also any protruding branches and leaves from homes. This will invite fire into the home and lead to significant damage.
Fires will burn any flammable objects in the house and can also cause an explosion if there are any flammable liquids like gasoline lying around. Fires will burn your valuables, so it is not a risk you would be willing to take. Fires can be deadly and also pose a danger to human life.
Smoke Damage
After the fire, your home will suffer smoke damage. Soot and smoke will seep into walls and upholstery and leave marks that can be quite hard to remove. While most people understand that smoke damage isn't as severe as fire damage, it is still very destructive. You would be surprised to know just how greasy fumes can be.
The smell of smoke will also seep inside your property. Smoke inhalation can also be detrimental to human health, causing a host of respiratory issues. People may start experiencing coughing and allergies due to the harmful smoke fumes.
How to Deal with Fire and Smoke Damage?
Since residents of Chico live in an area that is prone to droughts and wildfires, you should be prepared in advance. In order to prevent fire damage, you should keep your plants and trees trimmed. If there are any branches or dry leaves protruding from outside the house, they can catch fire.
If you live in a drought-prone area, you should avoid keeping any flammable liquids outside, where they may come in contact with flames. These small steps may safeguard your property in the event of a wildfire.
While smoke damage is part of fire damage, there are steps to contain the extent of damage done. Bear in mind that when you are dealing with wet smoke, you shouldn't wipe it will spread and leave a mark. This will make it even harder to get rid of.
Moreover, you may think if the soot can't be seen, it means that smoke damage isn't present is a false assumption. Smoke lingers inside homes, requiring the assistance of a professional home restoration company. Inhalation of smoke can also be dangerous, so you shouldn't enter the property without proper gear like gloves and a mask.
In the event of a fire, leave the premises immediately and do not use any electronic appliances that could further aggravate the issue. Make sure you do not enter the kitchen and do not turn on the stove as this could result in an explosion.
Fire and Smoke Damage Restoration
When you live in an area like Chico that often suffers fire and smoke damage due to its infamous droughts, you should contact a home restoration company. Since fire and smoke damage can be dangerous and extensive, you should professionals deal with it.
In fact, if your home does suffer fire and smoke damage as a result of the drought, you should not enter the home. If you are inside the property, you should immediately open the windows to allow for proper ventilation. Otherwise, you would feel suffocated.
Get Professional Help
If you encounter fire or smoke damage living in Chico, you should immediately call 911 Restoration of Chico. These home restoration experts have a fast emergency response time of 45 minutes and will offer their assistance before the damage escalates.
They offer residents of Chico fire and smoke damage restoration services. They also handle water damage restoration and mold removal and remediation, both of which are often a byproduct of fires. Water often lingers inside homes after a fire is extinguished, which then leads to mold growth, which causes destruction too. Avail this all-in-one home restoration, especially if you are living in a disaster prone place like Chico.